@CNNMoney
February 3, 2012: 10:27 AM ET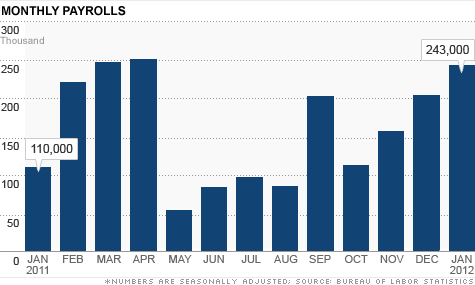 NEW YORK (CNNMoney) -- American employers substantially stepped up their hiring in January, bringing the unemployment rate down for the fifth month in a row. Employers added 243,000 jobs in January, the Labor Department reported Friday, marking a pick-up in hiring from December, when the economy added 203,000 jobs. Meanwhile, the
unemployment rate
fell to 8.3%. That is the lowest since February 2009. Hiring was much stronger than expected, and once it was apparent the job gains were broad based across several sectors, economists and investors called it a "nice surprise," "fantastic," and even "a touchdown!"
Stocks
climbed at the market open.
---
Poll: Mainers feel better about economy
February 2, 2012 in Articles
Author:
Associated Press
Publication:
Portland Press Herald
PORTLAND — A new poll shows Mainers are feeling better about the economy.
The poll released today by Market Decisions of Portland says Maine consumers turned optimistic about the economy in January, with consumer sentiment rising 12 percent from the previous quarter.
---
Part 2: Insiders View of the Maine Real Estate Market
January 31, 2012 in News
Author:
Video by Travis Bernier
Publication:
MaineBiz
---
Featured Property: 465 Congress Street, Portland
January 27, 2012 in News
Author:
Karen Rich
Publication:
Portland Press Herald/Maine Sunday Telegram
In Monument Square, one of Portland's premier office buildings, with high-profile tenants including People's United Bank, has leasing opportunities available at aggressive rates. The entire top floor, consisting of 6,500 square feet and offering spectacular views of the city as well as water views of Portland Harbor and Back Cove, is available. In addition, there are attractive office suites, also with views, available on the third, sixth and seventh floors. These office suites range from 2,300 to 3,940 square feet. Please note that parking incentives are being offered for five-year lease terms.
Read the PDF
---
MEREDA Retail Presentation 2012
January 27, 2012 in News
Author:
Karen Rich
Publication:
MEREDA 2012 Conference
Karen Rich from Cardente Real Estate was this year's Retail Forecaster for the MEREDA Conference. This publication discusses the current state of the retail market in Maine as well as provides predictions for the upcoming year.
Read the PDF