Mortgage rates fall to record lows
@CNNMoney
December 15, 2011: 1:44 PM ET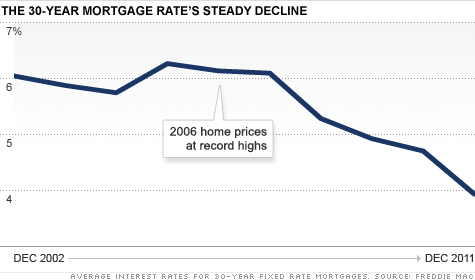 NEW YORK (CNNMoney) -- Mortgage rates sunk to record lows again this week.
The average rate on the 30-year fixed mortgage fell to 3.94%, matching the all-time low hit in early October, according to Freddie Mac's weekly mortgage rate survey. Meanwhile, 15-year fixed-rate loans hit a new record low of 3.21%, surpassing the record set on October 6.
Five-year adjustable rate mortgages also plumbed new depths, hitting 2.86% for the week.
"We've been hanging around record lows for a few months now and we finally hit another one," said Keith Gumbinger of HSH Associates, a provider of mortgage data.